Tech
Windows 10 now on 600 million machines, not all of them PCs
Microsoft CEO Satya Nadella told shareholders that Windows 10 has now passed 600 million monthly active users, picking up 100 million since May of this year.
This number counts all Windows 10 devices used over a 28-day period. While most of these will be PCs, there are other things in the mix there: a few million Xbox Ones, a few million Windows 10 Mobile phones, and special hardware like the HoloLens and Surface Hub. The exact mix between these categories isn't known, because Microsoft doesn't say.
The company's original ambition (and sales pitch to developers) was to have one billion systems running Windows 10 within about three years of the operating system's launch. In July last year, the company acknowledged that it won't hit that target—the original plan called for 50 million or more phone sales a year, which the retreat from the phone market has made impossible. But at the current rate it should still be on track for somewhere in excess of 700 million users at the self-imposed deadline.
Windows 10 isn't the first release that Microsoft has published user numbers for, of course, but the speed of adoption has a particular importance as the company tries to encourage developers to build apps for the Microsoft Store. The company wants developers to either produce applications using the new Universal Windows Platform APIs, or failing that, to package their existing applications using the older Win32 APIs using the Desktop Bridge (formerly Centennial). In both cases, Microsoft wants devs to sell, distribute, and update those applications through the Store. With UWP and Centennial being exclusive to Windows 10, assuring developers that the market is big enough to be worth targeting is important for achieving this; sluggish Windows 10 adoption would leave developers more inclined to take the safe bet of targeting Windows 7 and ignoring UWP and the Store.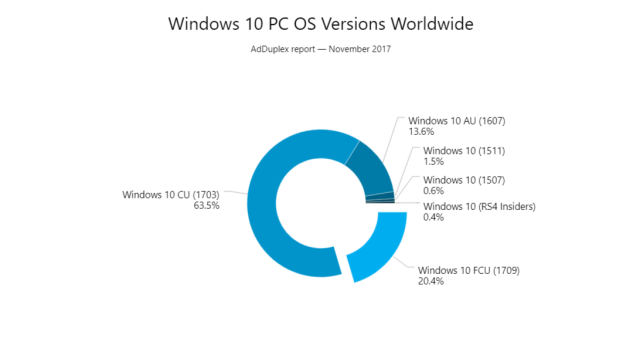 Adoption of the latest Windows 10 version, the Fall Creators Update, version 1709, continues to outpace the uptake of the Creators Update, 1703. Using figures from AdDuplex, version 1709 is on a hair over 20 percent of Windows 10 machines after being widely available for a month and ten days. That's up from five percent a month ago.
AdDuplex's numbers also give some insight into the make-up of the market for Microsoft's Surface-branded computers. The new 2017 Surface Pro seems to have gotten off to a solid start, with just over nine percent of Surface-branded systems being this latest model. Surface Laptop, by contrast, appears to hold a much lower share at just two percent. AdDuplex's numbers are driven by usage of apps from the Store. Part of this difference in share is likely to be due to different user behaviors; on the one hand, tablet users are probably more inclined to be interested in Store apps, as Store apps are more likely to be accessible to tablet systems. On the other hand, the Laptop defaults to Windows 10 S, which can only use Store apps (though it can be freely upgraded to Windows 10 Pro, which has no such restriction).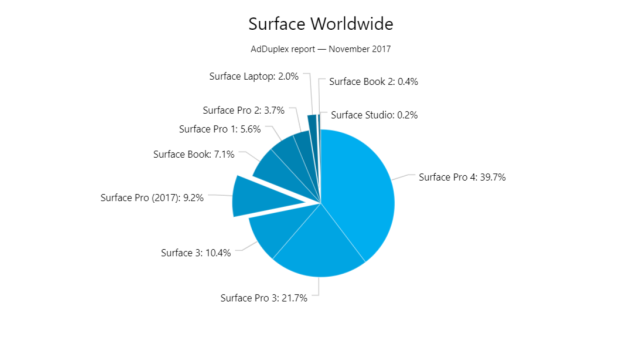 Which effect is more significant is hard to say, but either way, it continues to appear that people who want the Surface brand want the flexibility that Surface Pro boasts. That only further cements our confusion that the Laptop didn't include a 360-degree hinge.
[contf]
[contfnew]

[contfnewc]
[contfnewc]Original Article