UK News
Warning over immigration 'cliff edge' after Brexit
Building industry bosses have warned the Government they will need a generous immigration regime after Brexit to avoid a "cliff edge" if EU workers are restricted.
One in eight construction workers in the UK are from abroad – of which 60% are from European Union countries – but in some areas, they form the vast majority of staff on sites.
Today, the industry's seven major trade bodies have published a "Brexit manifesto" intended to pile pressure on ministers to set out their plans for a transition period, a new migration system and how to fill the "critical" skills gap.
It comes two weeks ahead of a crunch summit in Brussels at which Theresa May must give assurances about the status of EU citizens who are already living in the UK, if Britain is to move on to negotiating a trade deal with the EU.
With three million people employed in construction, they say their concerns must be acknowledged, but Mrs May faces increasingly vocal concerns from other sectors reliant on migrant labour, including hospitality and agriculture.
Brian Berry, chief executive of the Federation of Master Builders, the largest trade association, said without an indication of what immigration system will replace free movement, EU workers would soon start leaving for other countries.
"I think the Government is finding it very tricky to be clear cut, while it is negotiating with the European Union. But we're facing a cliff edge.
"We don't know, post-2019, what the Government's regime is going to be, and that will have a detrimental effect on the provision of more housing and infrastructure which we desperately need in the post-Brexit era."
Steve Radley, head of policy at the Construction Industry Training Board, set up in the 1960s to boost apprenticeships, said: "We have a key period coming up at Christmas, there's obviously a risk that some (EU staff) will go home for Christmas and not come back.
"I think industry is really looking at maybe a transition period of about five years or so, to really put the plans in place to ramp up apprenticeship numbers, to get recruitment going and attract people from other sectors."
Ministers have announced this month that 300,000 homes a year must be built to meet a national shortage. The Government has also published an industrial strategy aimed at building infrastructure "fit for the future".
In the capital, the pressure to build homes is particularly acute. At a site in west London where Cuttle Construction is developing a row of basement flats, about 80% of staff hail from abroad.
Mark Flynn, project manager at the site, where English and Irish staff are outnumbered by those from eastern Europe, told Sky News: "As it stands, we have a good workforce. But if fresh people are limited from coming in, it would soon thin out.
"I think you'd have to offer the English and Irish guys more money to do the things the guys from eastern Europe are happier to do. They are into different things now, they find computers and other industries more appealing than hard work.
"You always hear of people here wanting to be electricians and plumbers. You don't hear of so many people wanting to be labourers. It's earlier starts, you're quite often outside exposed to the elements… it's not the easiest game to be in."
Site foreman Brian O'Donnell said strict restrictions on EU workers would certainly increase costs.
"There will be trouble, there will be serious problems if you can't get the workforce, you can't get the work done."
Mihai, from Romania, who moved to Britain 11 years ago and works on the site, said he was confident of being able to stay after Brexit but said the future was uncertain for newer arrivals, and countries like Germany might have more appeal.
"For people coming now, it's very difficult, a lot of people have children born here, at school, they have houses. They are scared about what's going to happen after 2019," he said.
At Nescot further education college in Epsom, Surrey, hundreds of students are training to be carpenters, bricklayers and electricians.
Industry bodies say there has been increased interest in more vocational courses in the last two years but it will take time to meet the skills shortage.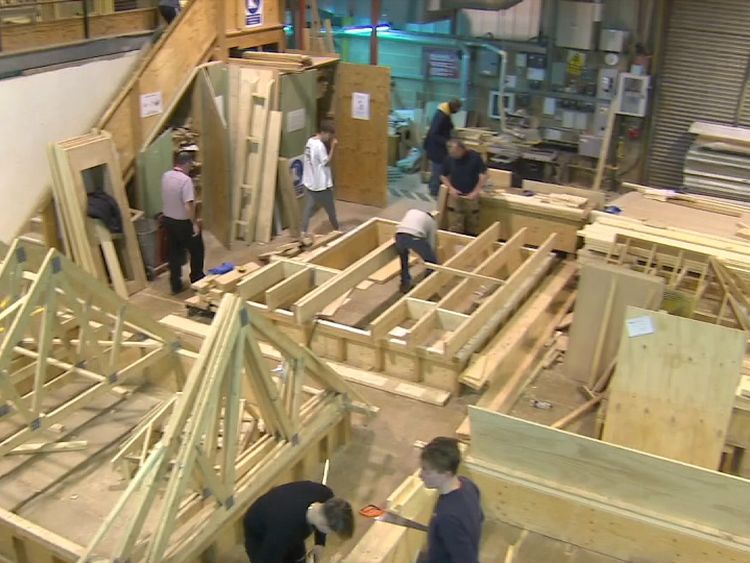 Dave Lewin, director of the college's construction courses, said: "Certainly to meet the Government's building agenda – 300,000 homes a year – we are going to have to work very closely with industry to make sure our young people are capable of fulfilling that need."
But he added: "Apprentices make good money from day one. Yes it's hard labour, it's hard graft involved but there's huge opportunities and young people can see that."
A Home Office spokesperson said in response to the construction industry's manifesto: "We are carefully considering the options for the future immigration system and will set out our plans shortly.
"We have already been clear there will be an implementation period after we leave the EU to avoid a cliff edge for businesses and that EU citizens already working in the UK will be able to apply for settled status so they can stay."
[contf]
[contfnew]

[contfnewc]
[contfnewc]Original Article