Tech
Sonnen, Pura Energía build solar systems in Puerto Rico as utility woes continue
German battery company Sonnen and its Puerto Rican solar-installing partner, Pura Energía, announced that they've installed six solar-plus-storage systems around Puerto Rico, and have plans for nine more. The initial six systems were donated, according to a press release from Sonnen, though it's unclear whether the subsequent nine will be donated or funded by some other entity.
In the aftermath of Hurricane Maria, which devastated the island more than ten weeks ago, Sonnen and its stationary-storage rival Tesla both promised to donate resources to help set up renewable energy systems and microgrids. (Tesla completed a solar-plus-storage installation at a children's hospital in late October, though it didn't release details about the size of the installation or its price.)
Since the hurricane, scandal after scandal have complicated the restoration of the island's main grid, leaving residents relying on diesel or gas generators for power and making cheap, emission-free solar power all the more vital.
The systems installed by Sonnen and Pura Energía each include an array of solar panels, as well as stationary batteries from Sonnen's Atlanta, Georgia manufacturing center, which store solar energy for evening use.
Three of the panel-and-battery pairings have been installed at lavendarías (laundromats) in La Perla, Loizia, and Morovis. The La Perla and Morovis installations both have 8kW, 16kWh batteries, and the one at Loiza received a 4kW, 8kWh battery. The microgrids are "used to power community washing machines, refrigerators, and some basic electrical outlets," Sonnen said.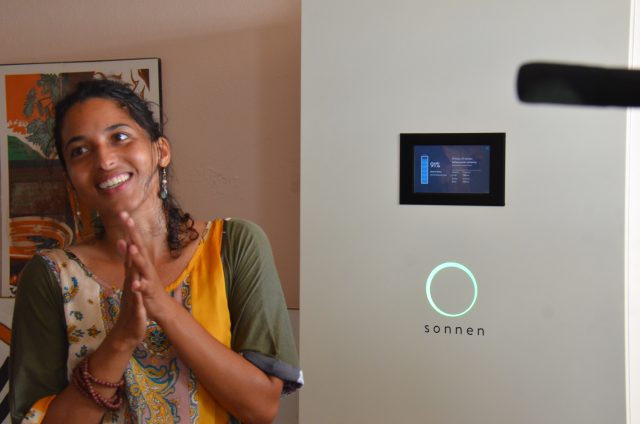 Another system with a 8kW, 16kWh battery was installed at a food shelter in Humacao, powering "refrigeration and meal preparation for up to 500 individuals per day." In Aguadilla, a system with a 4kW, 8kWh battery "provides lights, refrigeration, microwaves, and fans for a school that provides psychological services for children with behavioral and developmental disabilities." Finally, another system in Maricao received two 4kW, 8kWh batteries to power "refrigerators, lights, cellular router, and other power services for a shelter housing 45 residents displaced by the hurricane in an isolated mountain town that will likely be without power for many months."
Although these community solar and battery installations are small, microgrid advocates argue that they're a step in the right direction. Local energy production and storage fosters energy resilience, which will become more important as climate change makes grid-stressing heat and weather events more common. Distributed energy systems offer assurance that if a storm takes out a major generation plant, residents of smaller communities don't need to wait for expensive, long-distance transmission lines to be rebuilt before normal services resume. These concerns aren't recent, or specific to Puerto Rico, either. After Superstorm Sandy hit the east coast in 2012, New York state funded microgrid research in the hopes of avoiding the power outages the region experienced in the the storm's aftermath.
In Puerto Rico, many residents are now entering their third month without power from the Puerto Rico Electric Power Authority (PREPA). As of December 3, the government says only has 68 percent of PREPA's generating units are back online (and generating units do not reflect the proportion of customers with their power restored). The troubles are partially due to the fact that many of the island's transmission lines were located on difficult-to-reach, mountainous terrain, but politics has had its share of influence in the delays as well.
Soon after the hurricane struck, PREPA made a $300 million deal with a Montana company called Whitefish Energy to rebuild the island's destroyed grid. But news began to surface that called into question the terms of the deal, which appeared to offer higher rates and per diem allowances for Whitefish's contractors than seemed normal. A leak of the contract between PREPA and Whitefish also showed that the contract prevented the commonwealth of Puerto Rico and FEMA from performing an audit of Whitefish's costs and profit. In addition, the contract seemed to indicate that the Federal Emergency Management Agency (FEMA) signed off on the deal, though FEMA denied having seen the contract at all. In October, Puerto Rico's governor said he wanted to end the deal with Whitefish, though the contractor has remained on the island to finish up the work that it began.
[contf]
[contfnew]

[contfnewc]
[contfnewc]Original Article