UK News
Poppi Worthington was a 'bully', says father
The father of a toddler who died after sustaining serious injuries called the little girl a "bully" as he cried at her inquest.
Paul Worthington gave evidence at the second inquest into the death of Poppi Worthington, who was found with serious injuries in her home in Barrow-in-Furness and died in hospital on 12 December, 2012.
An inquest was held in 2014, during which a coroner decided he was satisfied to rely on the findings of a private family court judgment and declared Poppi's death as unexplained.
However, a family court judge later ruled the child had probably been sexually assaulted by her father before her death.
Mr Worthington returned to court on Thursday to give evidence, but answered many questions by referring to his statement of 2014.
Poppi's DNA was found on a swab of Mr Worthington's penis. When questioned, he referred to previous statements, which had offered the explanation that he had put his fingers in Poppi's mouth to clear her airway and had later urinated.
He also referred to his daughter, who was 13-months-old when she died, as a "bully".
When asked to describe Poppi, the 49-year-old said: "Lively. Bubbly. The happy one out of the siblings. Bully in her own little way."
:: Poppi Worthington: Sister says she trusted baby's father with her own children
During Thursday's hearing, he refused to answer all but one of the questions put to him – and simply referred to his previous statements under Rule 22 a total of 183 times.
The inquest was told the post-mortem examination of the toddler showed penetration of the anus.
When Mr Worthington was asked if he at any point penetrated her, he replied: "I refer to my previous statements under Rule 22."
He told the court he didn't know how her bottle or pillow got onto the double bed where he usually slept.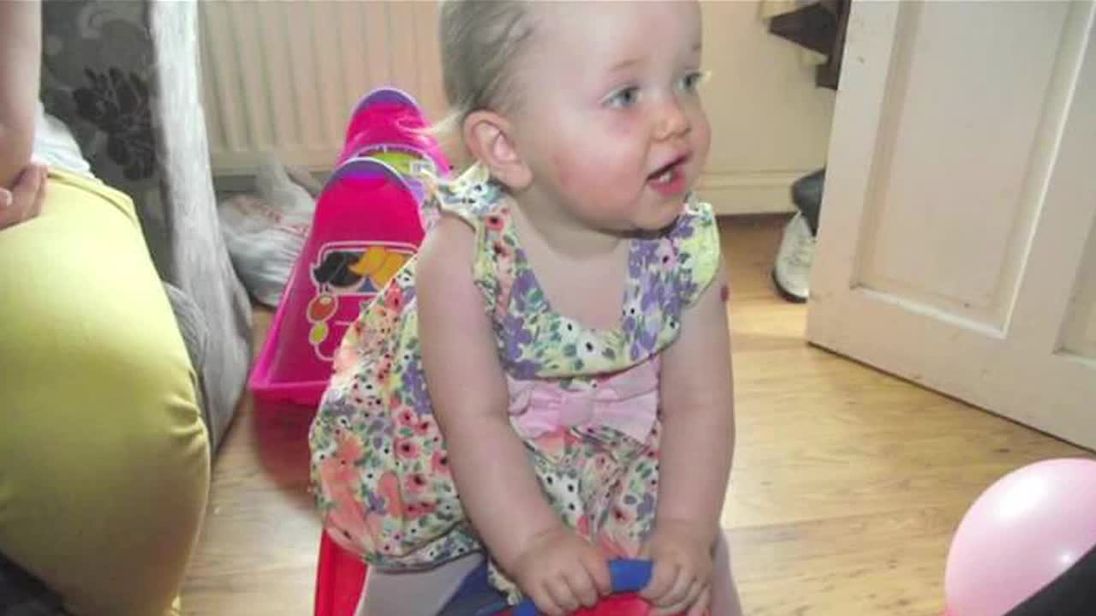 After completing the questioning, coroner David Roberts said: "Now you are perfectly entitled to rely on your legal right not to answer anything that might incriminate you, there's no inference drawn from that.
"That said, today is an opportunity for you to tell me anything you think may help me understand how Poppi came by her death.
"So I don't want you to leave court thinking you have not had the opportunity to tell me what happened as best you can remember about the facts of those hours.
"It's an opportunity. Is there anything else you would like to tell me?"
Mr Worthington replied: "No sir."
:: Father of Poppi Worthington refused to answer questions 69 times at inquest
The inquest also heard from two police officers who attended Poppi's home, including one who found "kitchen roll" when asked to look for nappies.
Former Detective Constable Lindsey Bolton, who is no longer a serving police officer, said the laptop used by Mr Worthington to watch pornography the night that Poppi died was never recovered by officers.
He sold the device after her death.
Detective Sergeant John Carton told the inquest when he went to see Poppi there had been no visible bruising, but there was blood around the backside and in her nappy.
He said there has been no effort to remove the sheet she had been lying on, or the laptop, because it wasn't a criminal investigation at the time.
Mr Carton told the inquest a doctor he spoke to was concerned by Mr Worthington's "changing story".
Closing evidence, DI Amanda Sadler said she should have taken samples from Poppi and regretted not taking a DNA sample from Mr Worthington earlier.
[contf]
[contfnew]

[contfnewc]
[contfnewc]Original Article