UK News
'La Dolce Vita': Illegal immigrants found superglued in UK lorry subsisting on Belgian chocolate
Eleven illegal immigrants, super-glued into the back of a lorry by traffickers, have been discovered near Warminster, Wiltshire after travelling into the UK from Europe. They survived by munching the pricey Belgian chocolate the driver was transporting.
Ten Iraqis, six minors among them, and one Afghan national were found quite by chance. The lorry pulled into a lay-by and people in a nearby cafe heard some "shouting," The Telegraph reported.
"We all knew straight away what the banging and shouting was," Dave Thomas, owner of The Willoughby Hedge Layby café, said. "It has happened here twice before in the past 15 years I believe," he added.
Read more
When local law enforcement officers arrived, they were at a loss because the locks proved to be glued shut. The fire service had to be called to open the lorry.
According to Thomas, police had to wait for a special disc cutter to get the padlocks off. "These it seemed had been damaged by both glue and force and could not be opened, and it seemed that this is a typical ruse by the gangs that organize people into the country.
"They get them into the lorry, replace the locks and then damage and super-glue them such that they cannot be opened."
"The group had stowed way on the very back part of the trailer and had been feeding on the pallet of very expensive Belgian chocolate that was being carried," the owner of the café said, adding that they were obviously very lucky because while their trailer was a refrigerated unit, the section that they and the chocolate stayed in was at normal temperature.
After receiving medical aid, the migrants were held on suspicion of illegally entering the UK. Police from Warminster said there were children aged between six and 15 among the group, and according to the crew from Trowbridge fire station, a baby was among the group.
"The lorry had come in from mainland Europe overnight and the matter will now be handed over to our colleagues from the Home Office immigration department to deal in conjunction with assistance from the police and child services," a force spokesperson said.
Read more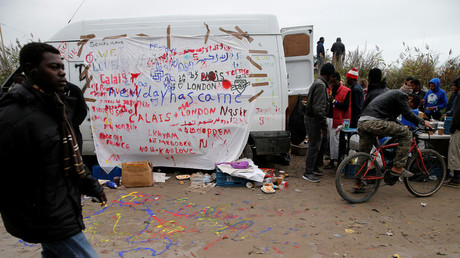 "Where someone has no right to remain in the UK, we will take action to remove them."
Europe has been plagued by a series of incidents in which desperate migrants hide inside cars and trucks. In October of last year 15 people, including children, were found in the back of a refrigerated truck at a service station on the M25 motorway as police responded to reports that suspected illegal immigrants were inside and possibly dead. The group are believed to have boarded the vehicle in Holland and travelled through the Channel Tunnel among boxes of frozen roast potatoes at a temperature of -25°C. Five people were rushed to hospital after travelling inside the truck; the migrants were reportedly refugees from Iraq, Syria and Iran.
The decomposing bodies of 71 refugees, including a baby girl, were found in a tractor trailer on an Austrian motorway in late August of 2015, with police saying that the victims had suffocated. At the time, Austria's interior minister, Johanna Mikl-Leitner, slammed the traffickers as criminals, saying that "This tragedy is a concern for us all. Smugglers are criminals. They have no interest in the welfare of refugees. Only profit."
[contf] [contfnew]
[contfnewc] [contfnewc]