UK News
Daily Fail: Profits & shares in Britain's most (in)famous tabloid nosedive
The Daily Mail's hysterical right-wing rhetoric could be driving away readers and advertisers. The British tabloid's publisher has reported a staggering loss of £112 million ($151 million).
Daily Mail & General Trust (DMGT), which also owns the Mail on Sunday and the Metro, reported a 13-percent drop in profits to £226 million ($304 million) on Friday. Saying it had been "adversely affected by recent disposals and challenging conditions in some of our sectors," it set gloomy forecasts for the future as well.
Read more
However, profits could well have been dented by the backlash against the Britain's second-most-read paper. But what could be motivating this?
The paper has something of a reputation for running sensationalist stories that take liberties with reality and for out-and-out bear baiting. It really outdid itself around the time of the Brexit referendum, when it splashed both inflammatory and discriminatory stories against Remainers, with headlines like 'Crush the Saboteurs.'
That's without mentioning its slurs against three Supreme Court judges, who ruled that MPs should have a final say on any Brexit deal. The judges were referred to as 'enemies of the people' – a refrain associated with those targeted by the Nazis. Then again, this is a paper that was once run by Hitler-sympathizer, Viscount Rothermere.
But beyond its aggressive headlines, one of the likely reasons why people are now shunning the paper is for its relentless tarnishing of Labour leader Jeremy Corbyn's image in the run up to the general election last June.
The Daily Mail, in fact, ran a pre-election edition featuring pages of attacks on Corbyn, Shadow Home Secretary Diane Abbott, and Shadow Chancellor John McDonnell. But as the election saw an outstanding outcome for the socialist leader, Corbyn mockingly thanked the Daily Mail's editor saying: "The day before the election, one paper devoted 14 pages to attacking the Labour Party. And our vote went up nearly 10 percent," he said.
Read more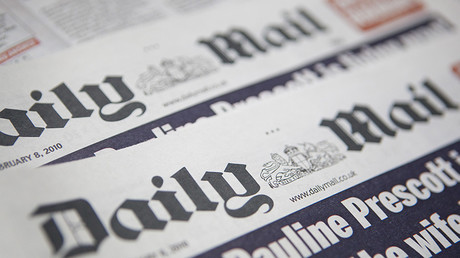 "Never have so many trees died in vain. The British people saw right through it. So this is a message to the Daily Mail's editor: Next time, please could you make it 28 pages?"
The newspaper also reported a drop in print advertising of five percent. Unsurprising, as three different firms, including Lego, the Body Shop and Paperchase, removed their ads from the paper between 2016 and 2017.
Lego pulled the ads as part of a campaign to stop companies from advertising in newspapers accused of "hatred, discrimination and demonization."
The Body Shop cited the paper's editorial stance that "seems to go against" the beauty brand's commitment to human rights as a reason to end the business. Paperchase decided to stop its marketing after receiving backlash from advocacy group Stop Funding Hate.
[contf]
[contfnew]

[contfnewc]
[contfnewc]Original Article